"Who knew that 40 years after the 'death' of fashion illustration it would be undergoing such a revival of interest? The depth and breadth of talent today is extraordinary. The truth is that we will always need artists to record and interpret a designer's work. It's a symbiotic relationship; one art-form describing another." David Downton
Paul Iribe 1883-1935 a French Illustrator, cartoonist, designer, decorator, and art director influenced by the art deco movement and Japanese painting. He worked in fashion, designing for theatre, jewellery, textiles and even opening a decorative art store in the heart of Paris . Together with a group of avant-garde artists, Iribe created the satirical journal Le Temoin in 1906.
His trendy art deco style was being published in the American Vogue. He also worked with Poiret who commissioned Iribe to illustrate his first major dress collection in a 1908 portfolio entitled Les Robes de Paul Poiret. Iribe's work in jewelry design led to an important collaboration with fashion designer Coco Chanel in 1932. In 1932 the International Guild of Diamond Merchants commission Chanel to design a collection of diamonds set in platinum called Bijoux de Diamants. Having only previously designed costume jewelry, Chanel declared that diamonds were an investment and turned to Iribe for help in designing her first foray into fine jewelry. Together both in business and in personal life, Iribe and Chanel set out to create a collection that inspired several of Chanel's hallmark symbols: Iribe's designs of real diamond shooting stars, bow-knots and feathers were exhibited in Chanel's apartment in Paris.
"That mother-daughter relationship is at the heart of Lanvin," says Elbaz. "I was shown the logo within minutes of arriving." Designed by the illustrator Paul Iribe, it is the only logo in fashion depicting a mother and daughter – or indeed any kind of tenderness." Alber Elbaz
Carl Erickson 1891–1958 an American Illustrator, was a fashion illustrator and advertising artist who was well known for his work with Vogue magazine and Coty cosmetics. At the start of his career he worked for advertising agencies such as Marshall Field, and Lord & Thomas (now FCB). In 1914 Erickson move to New York, and continued to illustrate for advertising. In 1916, he made his debut for Vogue magazine. He was married to Vogue illustrator, Lee Creelman. The two moved to Paris in 1920, where Erickson began illustrating for the French edition of Vogue and drawing society portraits.
By 1925, Erickson was a regular artist for Vogue magazine and a dominate figure in the fashion world. He developed a working relationship with French fashion designers Pierre Balmain and Cristóbal Balenciaga, as well as collaborating with artist René Bouët-Willaumez and René Bouché. Erickson continued to work until his death in 1958.
Erté, byname of Romain de Tirtoff 1892- 1990 Russian fashion illustrator of the 1920s and creator of visual spectacle for French music-hall revues. His designs included dresses and accessories for women; costumes and sets for opera, ballet, and dramatic productions; and posters and prints. (His byname was derived from the French pronunciation of his initials, R.T.)Erté was brought up in St. Petersburg. In 1912 he went to Paris, where he briefly collaborated with Parisian couturier Paul Poiret. He then became a costumedesigner and began selling his pen-and-ink and gouache fashion illustrations to American fashion houses. From 1916 to 1937 he was under contract to the American fashion magazine Harper's Bazaar.
Between 1915 and 1937 he designed hundreds of covers for the monthly fashion magazine Harper's Bazaar. His highly stylized designs of sinuous women draped in beads and furs helped define fashion for a generation.More than any other designer, Erté brought the decadent style and rich colors–jade green, crimson, and orange–of the Orient to life for Westerners. Influenced by everything from Greek vase paintings to Egyptian idols, Indian iconography and Russian religious art, Erté's designs embraced the exotic; they often seemed straight out of Arabian Nights.
"His famed "Alphabet Suite" is at the Centre Pompidou Museum in Paris, and depicts each letter of the alphabet in true Erté style. Using the human form in various states of déshabillé, various poses and props are illustrated to create the letters of the alphabet. These artworks, which Erté began in 1927, were later printed as a suite of limited edition prints. The prints were an immediate success upon their release in 1977 and are now extremely rare as a complete set."
Christian Berard 1902-1949 a French Illustrator died at the theater while giving stage directions. With frantic energy this Parisian designer invented sets and costumes for plays, movies and ballets by Cocteau, Genet, Giradoux and others. His fashion illustrations graced Vogue , and he dabbled in interior decoration, poster art and book illustration. The charm and luxuriant wit of Berard's creations are on display in this scrapbook of reminiscences, essays and photographs assembled by his long-time friend Kochno. Yet his claim to be taken seriously as a painter is the book's focushe led the so-called neo-humanist group in its revolt against cubism. In his most famous picture, Double Portrait on the Beach , he painted himself as a surly, shapeless, middle-aged woman on an infinite stretch of sand. His series of portraits of sadly staring boys exudes raw power. Berard emerges as an unclassifiable painter, like his friend Balthus, if not nearly as original.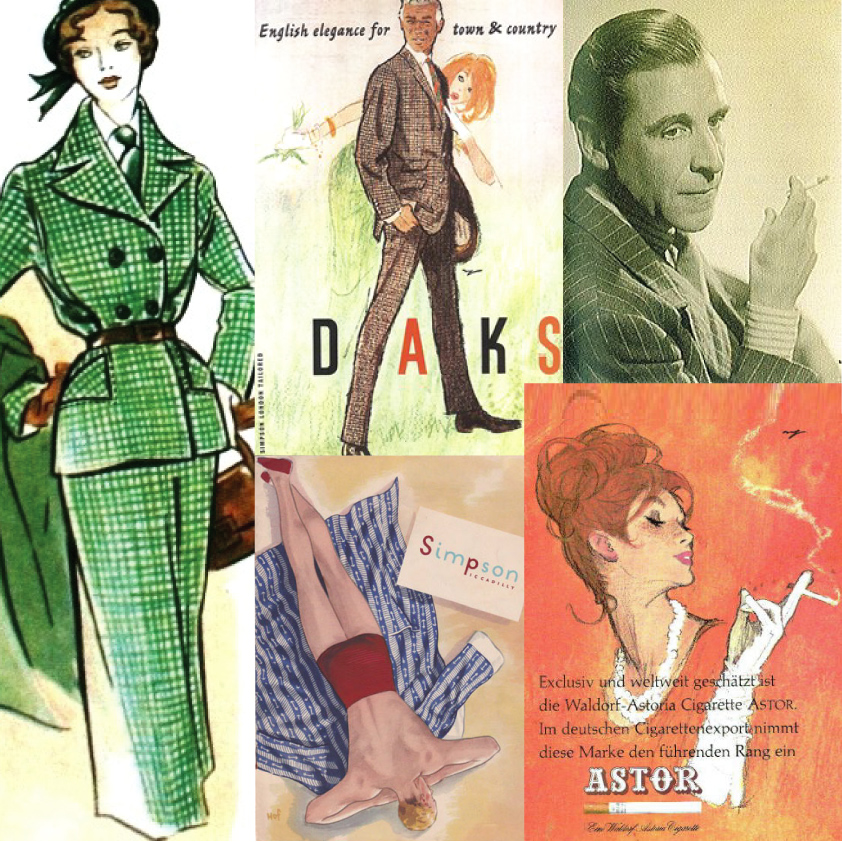 Max Hoff also Max Hof – an alias of Maximilian J.A. Hofbauer – 1903 – 1985 was an Austrian illustrator famous especially for his advertisements for Simpsons of Piccadilly and Astor Cigarettes. His art was perfectly representing the fashion of the 1950s and 1960s in Western Europe and North America. He was born in Vienna.
First used in the direct mail brochures, Hoff's illustrations soon bacame the mainstay of Simpson advertising. Bill Crawford – the advertising agent of Simpson's – recognized the power of this imagery, and when Hitler annexed Austria in 1938 Crawford persuaded Max Hoff to move to London.
His drawings of groups of impeccably dressed and homosocial male figures, virtually always depicted in a smiling and relaxed attitude, became the signature style of Simpson's and DAKS men's wear press advertising right up until the early 1960s.
Sir Cecil Walter Hardy Beaton CBE 14 January 1904 – 18 January 1980 was an English fashion, portrait and war photographer, diarist, painter, interior designer and an Academy Award–winning stage and costume designer for films and the theatre. After designing his first stage show (1935), Beaton worked on numerous productions, including Lady Windermere's Fan,Vanessa (opera), Gigi (film, 1951), My Fair Lady (stage, 1956; film, 1964), and Coco (1969). He is also recognized for his photography, particularly his glamorous portraits of the rich and famous, many of whom were either friends or acquaintances, and for the numerous books he wrote and illustrated. He started working for the British edition of 'Vogue' where he became famous for his fashion photographs and society portraits. During the Second World War, he became the country's leading war photographer and captured the horrors of the war in poignant details in his photographs.
René Bouché was an artist and fashion illustrator, known for his work in Vogue magazine and his social portraiture. Born Robert August Buchstein, 1905, in Austro-Hungarian Prague. By the age of 15, he was earning a living from illustration. At age 21, he studies art history at Munich University under the tutelage of Heinrich Wölfflin. In 1938, Bouché began his work as an illustrator for Vogue (Condé Nast) in France, continuing to work for the publication in the United States. He also illustrated advertisements for Saks Fifth Avenue and Elizabeth Arden, where he was their chief advertising campaign illustrator.
Dagmar Freuchen-Gale was born in Denmark and came to the United States in 1938. She worked for Vogue and Harper's Bazaar. In 1947, her drawing was chosen for the cover of Vogue when they introduced "The New Look" by Christian Dior. For 20 years, starting in the late 1940's, she taught fashion illustration at the Art Student's League in New York City.
René Gruau 1909 – 2004 was an Ialian fashion illustrator whose exaggerated portrayal of fashion design through painting has had a lasting effect on the fashion industry. René Gruau's illustrations were a favourite of the haute couture world and during his life-long career he collaborated with fashion houses such as Givenchy, Balenciaga, Lanvin, Schiaperelli and Dior.
Born Count Renato Zavagli-Riccardelli in Rimini, Italy in 1909 his father was an Italian aristocrat and his mother, whose last name he adopted, was a French Socialite. He moved to Paris in 1924 and commenced his career as a fashion illustrator. In the 30s he began to sketch for Parisian magazines and newspapers such as Femina and Le Figaro and soon began working with high style magazines such as Marie-Claire and L'Officiel.
In 1948 he moved to America. He contributed to Harper's Bazaar and Vogue and became the exclusive artist for Flair magazine. His advertising campaigns for Moulin Rouge and Lido de Paris utilised an old-world aesthetic, celebrating the traditional poster-art graphics of Toulouse-Lautrec, Bonnard and the pre-1900 Parisian artists.
 He continued to work in advertising, designing the hugely influential cinema poster for Fellini's La Dolce Vita in 1959 and working on campaigns for names such as Dior, Air France, Martini and Omega watches. http://www.fashionillustrationgallery.com/artist/rene-gruau/
Irwin Crosthwait 1914 – 1981, was a Canadian painter best known for his role as a fashion illustrator. Irwin's work has been published in Vogue, Conde Nast, Tatler, Woman's Own, Elle, Figaro, Jardin de Mode, Femina, Femme, Mademoiselle, Mayfair, Madame, Elegante Welt, Bellezza, The New York Times, The Herald Tribune, and The Philadelphia Bulletin. His work has included sketches of collections belonging to Balenciaga, Yves Saint Laurent, Dior, Givenchy and those of his good friends Emilio Pucci and Marc Vaughan. Additionally, Crosthwait took on work designing and painting sets for the Paris Ballet.
Irwin referred to fashion illustration, which was his principle source of income, as the "highest form of commercial expression". In order to fulfill his artistic aspirations, Irwin worked on impressionist and landscape paintings in-between his illustration assignments, consistently demonstrating a passion for color, depth and action. http://www.irwincrosthwait.ca/biography.html
Lila De Nobili 1916 – 2002 was an Italian fashion illustrator, stage designer, and costume designer. She was noted for her work at Vogue magazine and her collaborations with directors such as Luchino Visconti and Franco Zeffirelli.
In the 1930s, she studied at the Academy of Fine Arts in Rome with Ferruccio Ferrazzi and Aristide Sartorio, but left the Italian capital after it was bombed in 1943, settling in Paris.
At the end of the war de Nobili started working for Vogue, creating beautiful covers and drawings for the fashion magazine, together with another Italian artist and costume designer, Giulio Coltellacci.
She also did illustrations for Hermès and created the dreamy and stylish adverts for Lucien Lelong's fragrances.
http://irenebrination.typepad.com/irenebrination_notes_on_a/2012/05/lila-de-nobili.html
Bernard de La Bourdonnaye-Blossac, also called Blossac 1917 – 2002 was a French fashion illustrator. Blossac was a fashion illustrator, who regularly drew for Vogue, L'Officiel and Harper's Bazaar. He mixes his passion for fashion with his mastery of drawings of landscapes and interiors. Sometimes he inserted some drawings of models with previously worked interior designs.
Kenneth Paul Block 1924 – 2009 was one of the foremost fashion illustrators of the 20th century. For nearly forty years, he was an in-house artist for Fairchild Publications, owner of Women's Wear Daily, the garment industry trade paper, and its offshoot, W. As chief features artist, he helped transform the once-dowdy WWD into the bible of the jet set during the 1960s and 1970s. Babe Paley, Gloria Vanderbilt, Jacqueline de Ribes, Amanda Burden, The Duchess of Windsor, and Gloria Guinness were among the society women who posed for him.
Block's incisive yet graceful brushstrokes captured the most important styles of the post-war era, including collections by Norman Norell, Yves Saint Laurent, Pierre Cardin, Coco Chanel, James Galanos, Givenchy, Pauline Trigère, Bill Blass, Halston, and Geoffrey Beene. In the introduction to Drawing Fashion: The Art of Kenneth Paul Block, published in 2008, Isaac Mizrahi described Block's influence: "More than any single designer, he gave New York fashion its sophistication. Because he drew Babe Paley and Jackie Kennedy a certain way, they became what he had envisioned."
Concurrent with his editorial work, and for a dozen years after his career at Fairchild ended, Block created a prodigious portfolio of commercial fashion art, including drawings made during successive long-term contracts with three of New York's best-known specialty stores — Bonwit Teller, Bergdorf Goodman, and Lord & Taylor. Other commercial clients included Halston, Perry Ellis, and Coach. When Diana Vreeland joined the Metropolitan Museum of Art's Costume Institute, she immediately turned to Block to draw the poster for her first exhibit, on Cristóbal Balenciaga. He also created a drawing for Vreeland's "American Women of Style" exhibit. https://en.wikipedia.org/wiki/Kenneth_Paul_Block
Andy Warhol 1928 – 1987 was an American artist who was a leading figure in the visual art movement known as pop art. His works explore the relationship between artistic expression, celebrity culture, and advertisement that flourished by the 1960s. After a successful career as a commercial illustrator, Warhol became a renowned and sometimes controversial artist.
Even before his screenprints of Campbell's soup cans and Marilyn Monroe made him an international art star in the early 1960s, Andy Warhol was a successful, highly paid commercial illustrator in New York. From the beginning of his career in 1948—when he was a struggling freelancer at Harper's Bazaar, nicknamed "Raggedy Andy"—until his untimely death in 1987, Warhol published illustrations in more than 400 magazine issues.
Warhol is best known as the king of Pop art, and a few of his most iconic works tend to dominate his legacy (they've even been reduced to pictograms). But the lesser-known work here reminds us of Warhol's stylistic range as a prolific illustrator, photographer, and designer. There's his striking magazine cover art, which included photographs of Bella Abzug for Rolling Stone, Alfred Hitchcock for Vanity Fair, and Nico for Film Culture. His fashion illustration was as colorful and idiosyncratic as his famous silkscreens: a pink unicorn dominates an ad for Schiaparelli gloves. And his warped, pixelated illustrations for Amiga World in 1986 foreshadowed the Glitch art trend to come decades later. http://www.fastcodesign.com/3040883/12-rare-magazine-illustrations-by-andy-warhol/1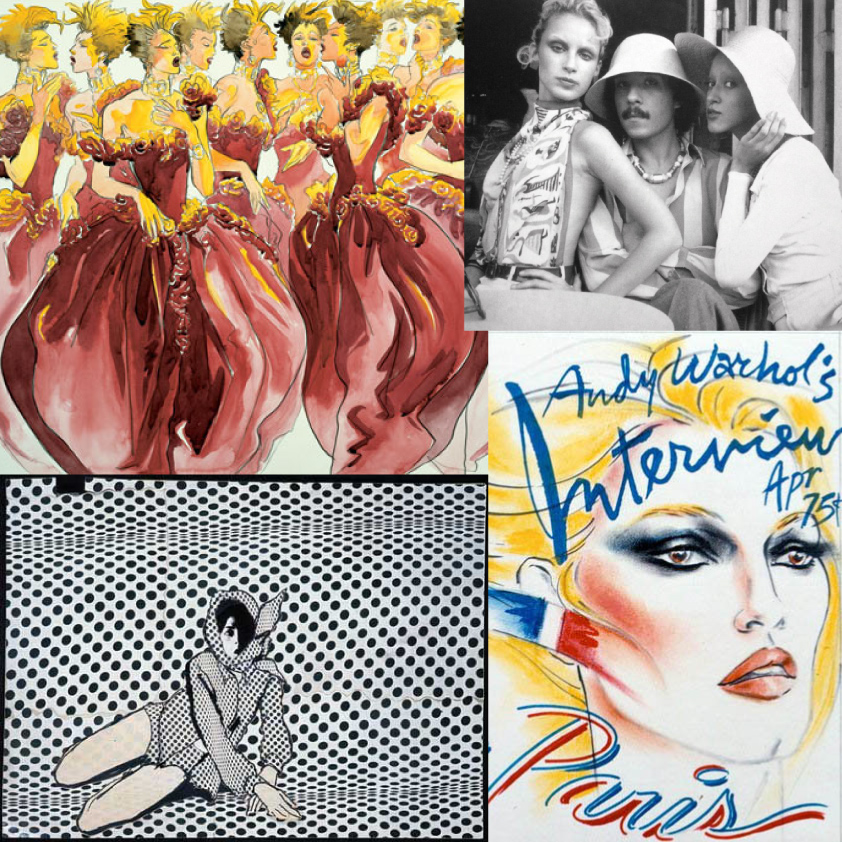 Best known for his illustrations for Vogue, The New York Times, Interview, and high-fashion labels, Antonio Lopez (1943-1987) was a force in the fashion world for three decades. In the '60s, his illustrations inducted youth culture into magazine pages, setting a new visual tone for fashion imagery. In Paris, where he lived during the '70s with creative partner Juan Ramos, Lopez launched the careers of models such as Jerry Hall, Grace Jones, and Jessica Lange, worked with Karl Lagerfeld and Yves Saint Laurent, and cultivated a nightlife scene at Club Sept. Back in New York in the '80s, he appropriated athletic wear and breakdancing style, inspiring designers such as Norma Kamali (creator of the Sleeping Bag coat) and Anna Sui. http://www.theantoniolopezbook.com/antonio.html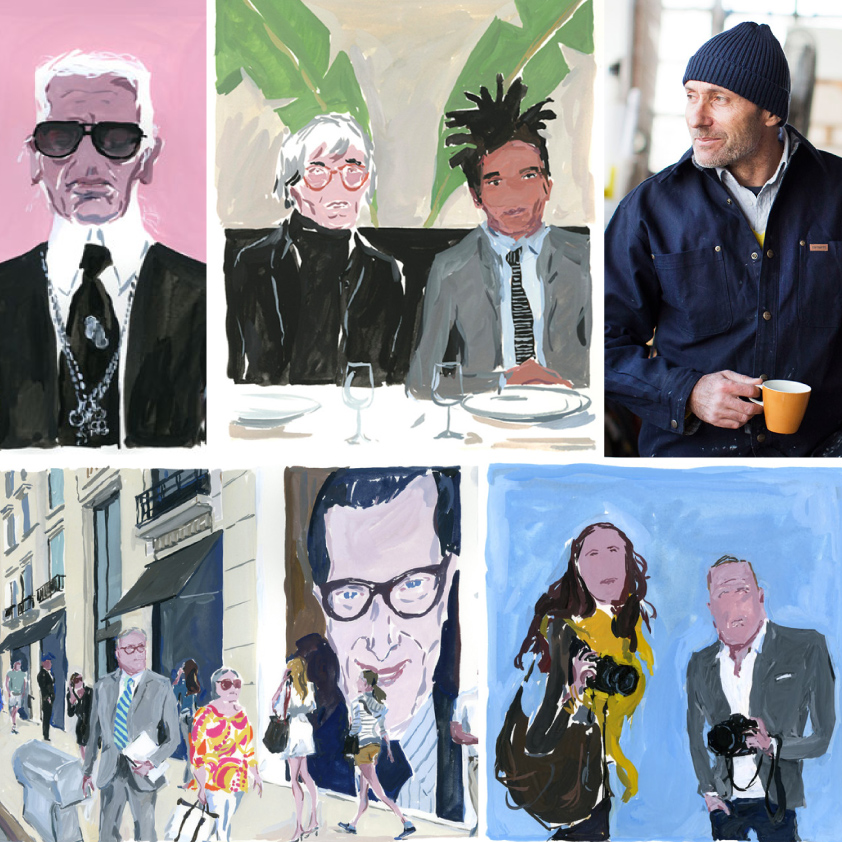 A painter and an illustrator, Jean-Philippe Delhomme has contributed to numerous magazines around the worldDepartures, W magazine, Interview, I.D. magazine,The New Yorker, Town & Country, Vogue Paris, Vogue Japan, Casa Brutus, Case da Abitare, Stern, Die Spiegel, Libération. His work has gained recognition with collaborations and award-winning ad campaigns for Barneys New York, SAAB USA, The Mark Hotel NYC, Le Bon Marché. He has also directed animated commercials, most notably for Saab USA, and Visa France. As a fashion illustrator, and a chronicler of culture, he has written and illustrated several books: The Cultivated Life published by Rizzoli International; Design Addicts published by Thames & Hudson; and Le Drame de la Déco, Art Contemporain and Scènes de la Vie Parentale published by Editions Denoël. He has also penned 4 novels as well as articles for French GQ, Architectural Digest France and Vogue Paris.
He was commissioned by Louis Vuitton for a New York Travel Book, including more than a hundred gouache paintings of New York, which was published in 2013.
He recently painted a mural in the legendary Paris private club Chez Castel. http://www.jphdelhomme.com/about/
Over the last decade, David Downton has established a reputation as one of the world's leading fashion artists. His classically elegant, yet highly contemporary images have been a key factor in the revival of interest in the tradition of fashion illustration and David is a worthy successor to the great artists in his field including Gruau, Eric and Antonio.
In 1996 he was commissioned to draw at the Paris couture by a Sunday supplement, and since that time has worked principally as a fashion illustrator. His reports from the shows have appeared in – among others – V Magazine, Vogue, Harper's Bazaar, The Times, The New York Times, Telegraph Magazine and most recently Vanity Fair.
David's commercial client list includes; Chanel, Dior, Tiffany & Co., Topshop, Joyce Hong Kong, Harrods, Estée Lauder and the V&A Museum. In addition David has produced portraits (from life) of some of the world's most beautiful and iconic women: Cate Blanchett, Dita Von Teese, Erin O'Connor, Catherine Deneuve, Iman, Linda Evangelista, Rachel Weisz and Paloma Picasso. http://www.daviddownton.com/about-david-downton/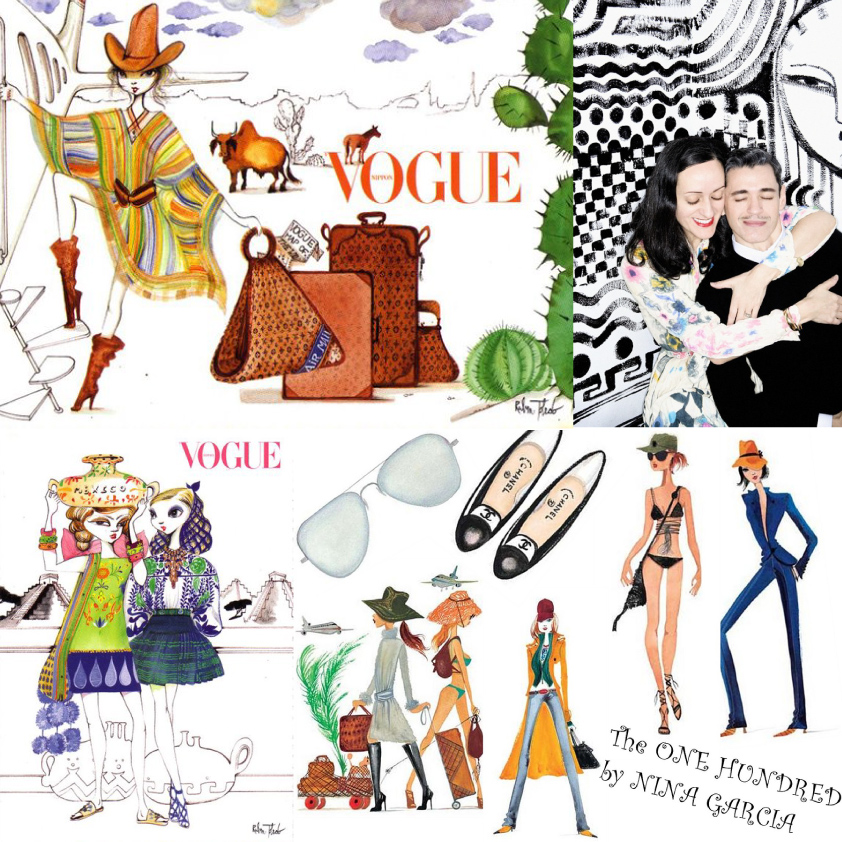 Ruben Toledo was born in Havana, Cuba in 1961 and plays multiple roles: painter, sculptor, illustrator, fashion chronicler and critic, and surrealist. He has designed mannequins, store windows, award statuettes, scarves, fabrics, dishes and carpets. He has painted murals, portraits, album covers and barns.
He has created witty and incisive illustrations for the top fashion magazines and journals from around the world, including The New Yorker, Vogue, Harper's Bazaar, Town & Country, Paper, Visionaire, Interview and The New York Times, and he is the illustrator of Nordstrom's national designer ad campaign. Toledo's work has been on exhibit throughout the world, including the Metropolitan Museum of Art in New York City. He is the author of Style Dictionary, a collection of his drawings and watercolors. His collaboration with his fashion designer wife, Isabel Toledo, was the subject of both a book and a museum exhibition titled "Toledo/Toledo: A Marriage of Art and Fashion" at The Museum at the Fashion Institute of Technology in New York City, where they both reside and work. Ruben Toledo recently completed his first film — an animated History of French Fashion entitled Fashionation.
Mats Gustafson (Swedish, b. 1951) began his career as an illustrator in the late 1970s, a time when editorial illustration was eclipsed by photography, and watercolor as a conceptual medium had barely been explored.
Gustafson's fashion and portrait illustrations have been included in editorial publications such as French and Italian Vogue, The New Yorker, and Visionaire, and he has created advertising art for Hermès, Tiffany & Co., Yohji Yamamoto, and Comme des Garçons. His work has been exhibited internationally in solo and group shows. Gustafson lives in New York.
Tanya Ling was born in Calcutta in 1966. Her childhood was spent in America, Africa and England. She studied at St Martins School of Art and after graduating in 1989 moved to Paris to work as a designer for Dorothee Bis and then for Christian Lacroix.
On her return to London she set up a contemporary art project space named Bipasha Ghosh with her husband William Ling. In 1996 the couple presented an exhibition of Ling's own drawings, titled Bipasha Ghosh Lives that led to her first commission as a fashion illustrator for British Vogue. Since then Ling has contributed to leading fashion titles throughout the world and made work for clients including Louis Vuitton, Selfridges and Frieze Art Fair.
In 2002 Ling produced a ready-to-wear collection which was presented by Gavin Turk at The Mayor Gallery in London. Afterwards the collection was featured in the windows of Henri Bendel, New York, where the collection was sold.
In 2003 British Vogue named Ling one of the most important trend-setters in Britain and The Observer Magazine announced her as their designer of the year. Her A/W 2003 collection was shown at the Institute of Contemporary Arts in London. http://www.tanyaling.com/biography/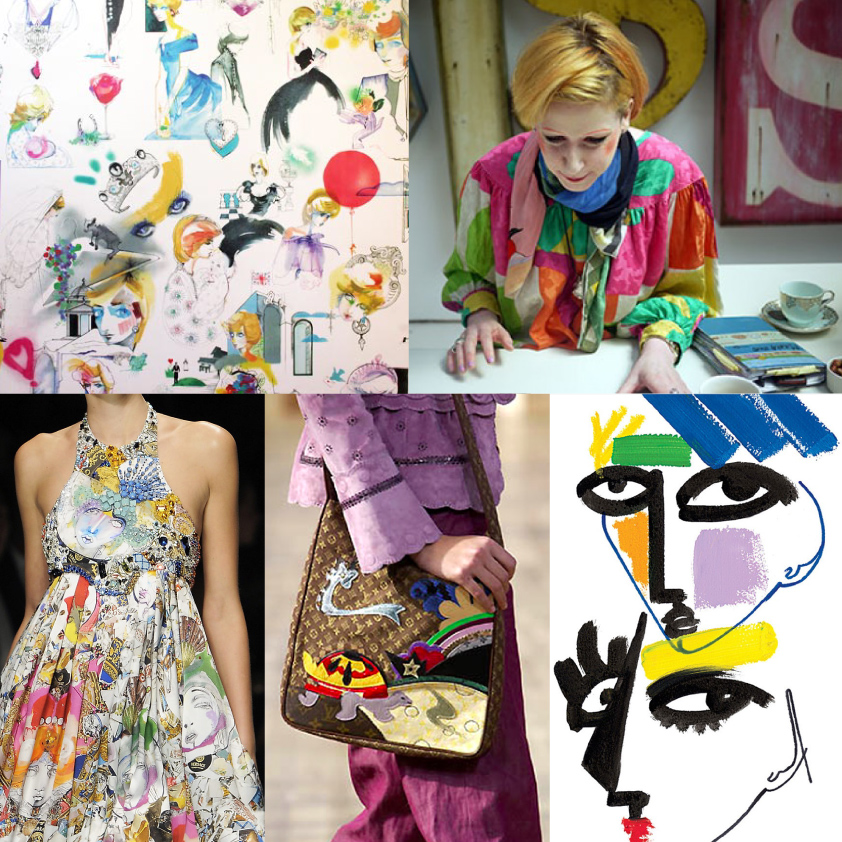 Julie Verhoeven born in 1969 into a creative household with a graphic designer father and illustrator mother, Julie Verhoeven has always had a strong motivation to pursue her chosen career path.
After being turned down as a degree student by St Martins, Julie went to work for the legendary John Galliano for four years. Following that, she worked for Martine Sitbon in Paris as a design assistant to consultant. Other consultancies have included Jasper Conran, Richard Tyler, Guy Laroche and Jean Colonna.
Breakthrough success came from her "Grimm's fairy-tale appliqué bags" for Marc Jacobs at Louis Vuitton, but her grandest challenge was a new range for Gibo. When the president Franco Pene, already well known for using only uncompromising and challenging designers wanted a new range, Julie was recommended to him by Bettina Oldenberg. Bettina, who works for Gibo, was a former colleague at Martine Sitbon and recommended her as the ideal candidate for the job. Gibo has been the manufacturer for many great designers including Hussein Chalayan, Helmut Lang and Viktor & Rolf. https://londonart.co.uk/sales/artistofthwk.asp?ArtistID=4001